Cyclists are predestined to break away. This neverending urge is fueled by the freedom their two-wheeled companion offers, being soaked up by the ever-changing surroundings and the freeing sensation of looking at everyday life from afar.
At PEARL iZUMi, we know how inspiring and empowering these adventures can be. How freeing it is to break free from all distractions and to enjoy the sheer focus on your legs, your bike and your direct surroundings. It's just part of our shared DNA.
That's why we want to do everything we can to support you on your bike rides, short and long, by providing you with just the right gear. Let us take care of the tiniest details of your outfits, so you can take in the stunning details the scenery has to offer.
PEARL iZUMi is well-known for its rich heritage and the craftsmanship it has been displaying since the 1950s. That's why we are proud to inform you about the acquisition of PEARL iZUMi by United Sports Brands.
At United Sports Brands, PEARL iZUMi will join an already impressive portfolio of sports brands with international allure. KT Tape, McDavid, Nathan, Shock Doctor and Spalding are one by one great examples of what a strong House of Brands can accomplish and we are looking forward to following their example of becoming the market leader in our segment.
Located in the beating heart of Europe, United Sports Brands Europe always has its finger on the pulse of what's happening in the many countries where it's present. In Geel, Belgium, you'll find both our warehouse, from which shipments are sent to customers all over the continent, and our brand-new headquarters, which houses specialists in design, marketing, and sales, to name a few.
Before there was a PEARL iZUMi, there was a man and a bike. He rode that bike 38 miles a day, every day. Not for exercise or for the fun of it, but to deliver 90 pounds of clothing to his customers in a neighboring village. The year: 1950. The man's name: Kinji Shimizu. And in fourteen short years, he'd go from lugging clothing on a bike to redefining what every cyclist wore on them.
In 1964, one of Kinji's sons, Hiro, raced for the Japanese national team at the Asian Cycling Championships. The team ordered its usual fourteen cotton kits. And a special fifteenth. After the races, the team director filled a helmet with scraps of paper with each racer's name. As fate would have it, Hiro's name was pulled. He won the special jersey. It was made in Italy and 100% nylon. Unlike anything he'd ever seen before.
Later that year, Kinji created his first kit based on that made in Italy design. He used only the best materials he could find. Kinji continued pushing his concepts. He was endless in his endeavors, constantly researching new fabrics and studying the body in motion. Over the next five decades, this obsessive approach led to innovation after innovation. Building the very foundation for everything we do today.
BIOVIZ

BioViz is a proprietary hi-visibility system designed to increase rider visibility for drivers by leveraging human biology. We employ a unique combination of fluorescent colors and strategically placed reflective elements that demand the viewer's attention. Our standards ensure riders are not only seen but seen with enough time for drivers to react safely, day or night.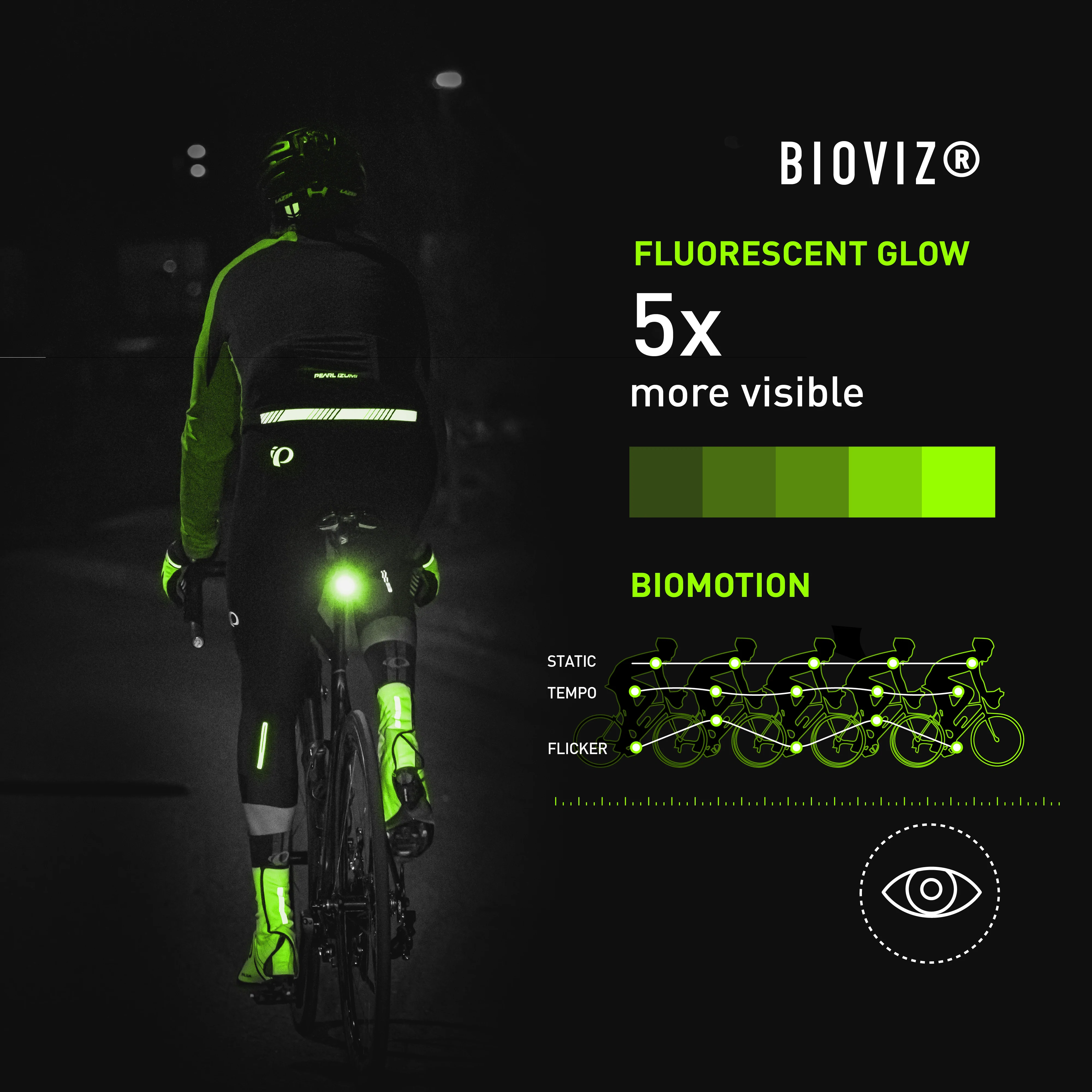 Chamois
In 1983, we made the first synthetic chamois and forever changed cycling apparel. Since then, we've been on a mission to continue innovating where it matters most. Our top-end chamois technology sets a new bar for performance-minded riders, and we apply the same thinking and quality standards to all price points because everyone should ride in comfort.
¿Quiere ser nuestro cliente?
Nos encantaría darte la bienvenida a nuestro equipo.
Rellene los datos que aparecen a continuación y nos pondremos en contacto con usted.