Founded in 2008, KT Tape has revolutionized the sports medicine industry with the introduction of the most advanced and recognized kinesiology tape and recovery products. The Company currently designs, develops, and distributes a variety of kinesiology tape lines, including KT Tape (cotton) and KT Tape Pro (synthetic), engineered for targeted pain relief and enhanced functionality, as well as a lines of performance and recovery products.
It is believed that when applied correctly, KT Tape lifts the skin, decompressing the layers of fascia, allowing for greater movement of lymphatic fluid which transports white blood cells throughout the body and removes waste products, cellular debris, and bacteria.
KT Tape is an elastic sports tape designed to relieve pain while supporting muscles, tendons, and ligaments. Our mission is to empowering everyday consumers to Train Longer and Finish Stronger.
Hyperallergenic, latex-free
KT Tape ® products are Hypoallergenic, Latex-Free, Natural Rubber-Free! This means that our products have been designed and developed to contain fewer potential substances that can trigger allergic reactions. While our goal is to provide you products that won't cause any irritations, if you are known to have sensitive skin or prone to irritations we recommend testing a small piece of KT Tape applied with no stretch on tougher skin such as the knee or forearm before utilizing our product line.
Cotton & Synthetic Tape
KT Tape Original and Gentle tape are made of 100% cotton fibers with specialized elastic cores. KT Tape PRO, PRO Extreme and PRO X are made using a highly engineered, ultra-durable synthetic fabric with 30% stronger elastic cores. Both the cotton and synthetic materials create unidirectional elasticity which allows the athletic tape to stretch in length but not in width. As a result, the elastic fibers provide stable support without restricting range of motion like a traditional rigid athletic tape.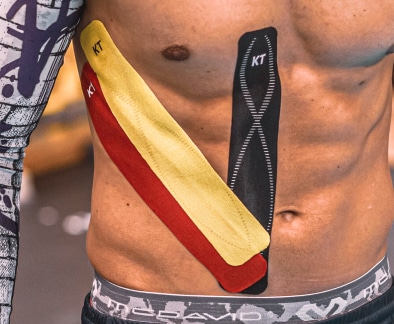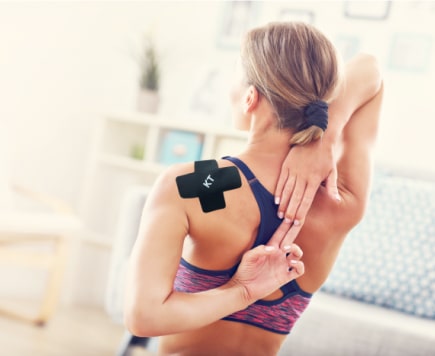 KT Tape Pro-X®
KT Tape ® Pro-X is a kinesiology patch specially designed to provide targeted relief for muscle pain, overuse injuries, and tendon-related pain and injuries.* KT Tape ® Pro-X patches were developed for the on-the-go, active consumer who appreciates a healthy lifestyle and doesn't want to be slowed down by pain or complex taping applications. KT Tape ® Pro-X will stay in place through multiple demanding workouts for one to three days.
Healthcare professionals have been teaching patients for years how to apply kinesiology tape themselves.
We put these instructions in easy-to-understand application videos for the most frequent injuries.
download THE Kt tape workbook
Do you want to become our customer?
We'd love to welcome you in our team.
Please fill in the information below and we will get in touch with you.